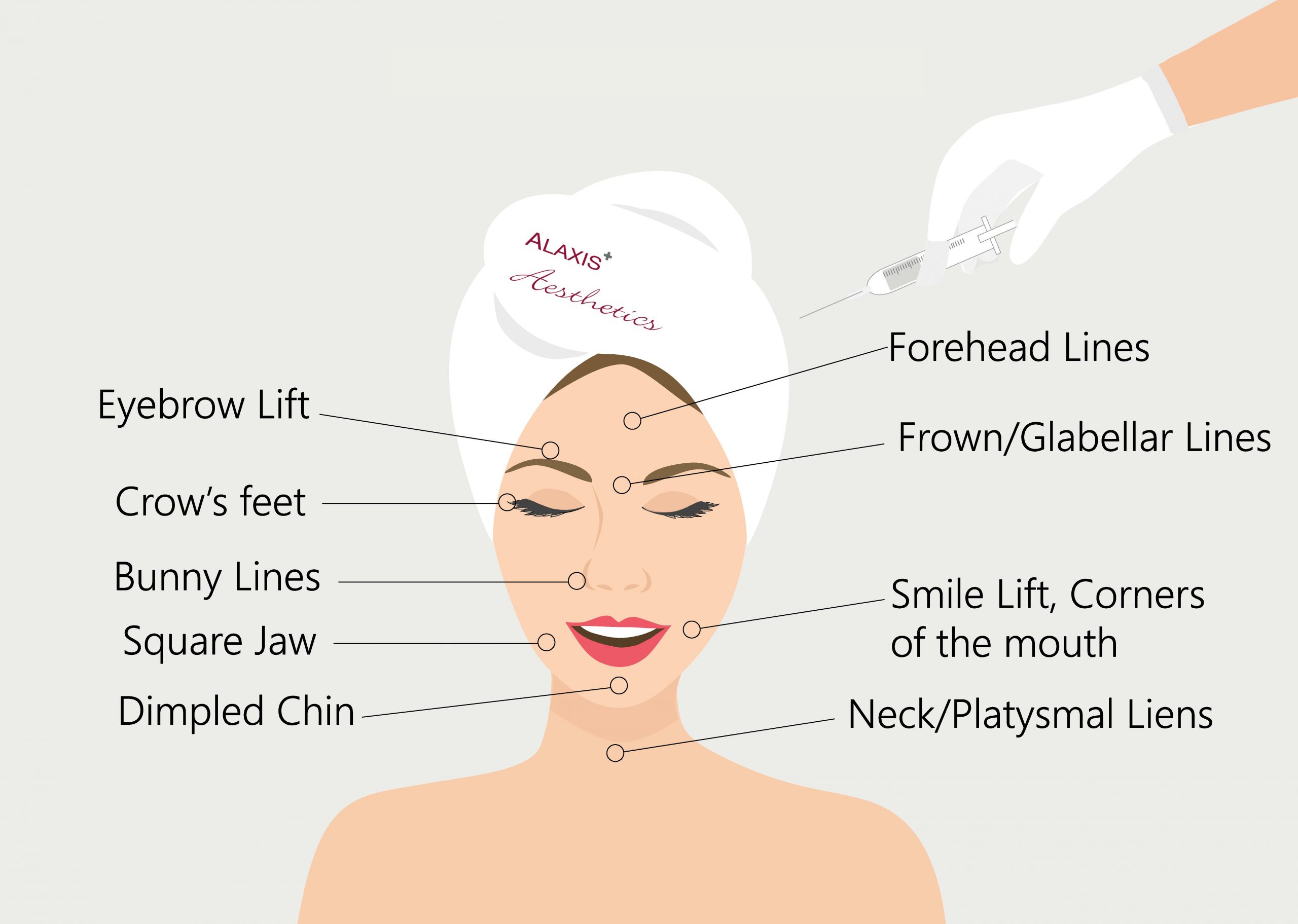 What you need to know about Botox (Part 2)
Am I a candidate for BOTOX® treatments?
If you are thinking about having BOTOX® injections, be clear about what you want to achieve. It is important to understand the advantages and disadvantages of cosmetic treatments and be realistic about the results. Patients should realise that Botox does not actually erase lines but instead relaxes them.
If you missed the first part click here. What you need to know about Botox Part 1
BOTOX® is given to people from a wide range of ages (around 18-65 years). The best candidates for cosmetic BOTOX® treatments are usually healthy men and women who are concerned about facial lines and wrinkles and are eager to gain a more rested and/or happier appearance.
When should I not have Botox?
BOTOX® injections are not recommended for people who:
Have a muscle or nerve-related condition




• Have a skin infection




• Are currently pregnant or breastfeeding




• Have previously reacted to the Botulinum toxin A




• Want to treat Ptosis (drooping eyelids)
It should be used cautiously for:
People at risk of bleeding, including people with blood clotting disorders, or who are taking blood thinners.




• People with extreme weakness or wasting in muscles e.g. patients with a history of stroke.




• People with breathing problems




• Very thick facial skin




• Deep facial scars
Stop taking medication containing fatty acids such as Aspirin and Cod Liver Oil around 3-7 days before treatment as these medications can increase bruising and bleeding.

Avoid consuming high levels of salt and sugar, refined carbohydrates and very spicy foods, 24 to 48 hours before and after treatment. Alcohol and smoking should also be avoided. These factors can increase the chances of bruising and swelling.

It is recommended to stop using Retin-A (often used to treat acne) 2-3 days before treatment to avoid any increased redness or irritation.

Consult with your doctor before stopping any prescribed medication and discuss activities that may not be recommended.
BOTOX® injections are usually an in-clinic, non-surgical procedure, with many patients scheduling the treatments in lunch breaks.
The procedure only takes around 10 minutes.
The patient is seated/laid in a raised position. The areas being treated are cleaned with a non-alcohol cleanser. Some doctors will also numb the areas using anaesthetic (such as EMLA cream) or other numbing agents.
The BOTOX® is then injected into the desired areas using very fine needles. Several injections are injected into the desired area. For example, it is recommended to inject 20 units of BOTOX® for the forehead and between the eyes individually (4 units of Botox in one syringe, injected 5 times). However, some patients (especially first-time patients) may receive a lower dose.
It is common for pressure to be applied after the injection to control bleeding and bruising after the injection. There is usually very little discomfort during the procedure.
Keep head upright; do not lie down or bend over for 4 hours after injection.

Refrain from touching the treated area for 4 hours. After this time, when you wash the area, do so gently and pat it dry carefully with a soft towel. Do not rub the treated area for 48 hours.

Do not have any facial treatments or massage that may promote 'tracking' of the Botulinum Toxin to neighbouring areas, for 48 hours.

Avoid alcohol-based products on the treated areas for 48 hours and exposure to UV and extreme heat i.e. sauna, steam, sun beds, very hot showers, strenuous exercise.

Take pain relief such as Paracetamol to reduce any pain/discomfort.

Avoid the use of Retin-A or similar products for 48 hours after treatment to avoid increased irritation or redness.
The effects/benefits of a BOTOX®treatment reach their maximum about 1 week following treatment. Treatment results are assessed at this follow up appointment. There may still be some undesired movement, lines or asymmetry that needs to be corrected, so a complimentary 'top- up' treatment is given to achieve the best possible clinical correction to the treated area(s), based on the musculature of face.
It is important to understand that there is no 'standard dose' for BOTOX® treatment. A personal prescription for treatment is reached by assessing your face, the size and position of your facial muscles as well as the way the muscles move in relation to one another. This personal prescription will form the basis of the next treatment as adjustments can be made at the next treatment appointment.
A consultation is recommended for you to have a better understanding on the various treatment options . During this consultation, you will be counselled on treatment benefits and risks and expectations will be explored and discussed before proceeding with any procedure.