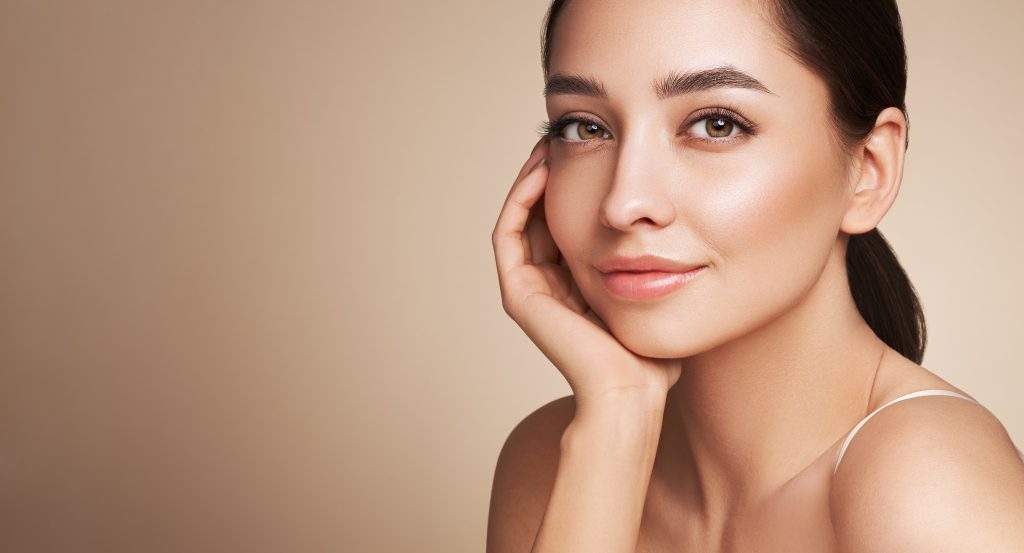 Pico laser is a next generation, picosecond Nd:YAG laser with wavelengths of 1064nm and 532nm designed to treat pigmentation and perform tattoo removal, scar correction and skin rejuvenation. 
Pico laser utilises picosecond laser technology that delivers ultra-short bursts of energy to the skin in trillionths of a second. The laser pulse is so fast and powerful that it changes the way the laser delivers energy to the targeted cells. It utilises photoacoustic impact to directly target skin blemishes, pigmented lesions, age spots, and tattoos, removing them without risking the damage which can occur with nanosecond lasers utilising photothermal (heat) energy. In other words, instead of using heat as previous generations of lasers did — and potentially causing damage to the skin — it impacts the targeted layer of skin like a shockwave. This makes it safer to use and capable of more precise applications than earlier generations of lasers.
We are here for you.
Book Appointment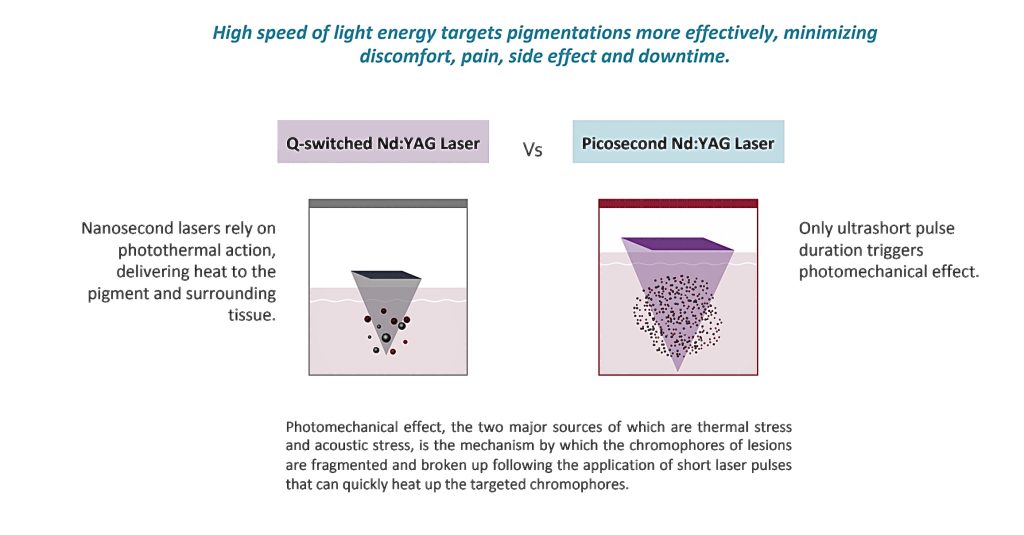 Pico Toning shows outstanding improvement to pigmentation lesions as well as skin aging, elasticity and large pores. In addition, it's excellent for skin rejuvenation.
Pico laser's toning-specific MLA handpiece provides the largest spot size, resulting in reduced treatment time and frequency.
Photomechanical Effect by DOE Fractional Laser Beam
Alaxis Medical's Pico's DOE Fractional Technology has been implemented to provide the photomechanical effect, which is the mechanism by which the chromophores of lesions are fragmented and broken up following the application of short laser pulses that can quickly heat up the targeted chromophores, which is called thermal stress, as well as acoustic stress being achieved when laser pulse duration is less than the acoustic diffusion time. In addition, it makes collapse of the cavitation bubble to generate strong local mechanical forces within the dermis, so called as Laser Induced Optical Breakdown (LIOB).
Pico laser's DOE Fractional Laser Beam can safely generate optical breakdown in tissue, leading to an enhanced inflammatory healing process resulting in production of collagen and elastin.

For All Skin Types and Various Skin Conditions
Alaxis Medical's Pico laser combines two effective wavelengths and ultra-short pulses to work for all skin types and can be conveniently utilised in treating any types of tattoo, pigmentations, scars and skin rejuvenation with low or no downtime.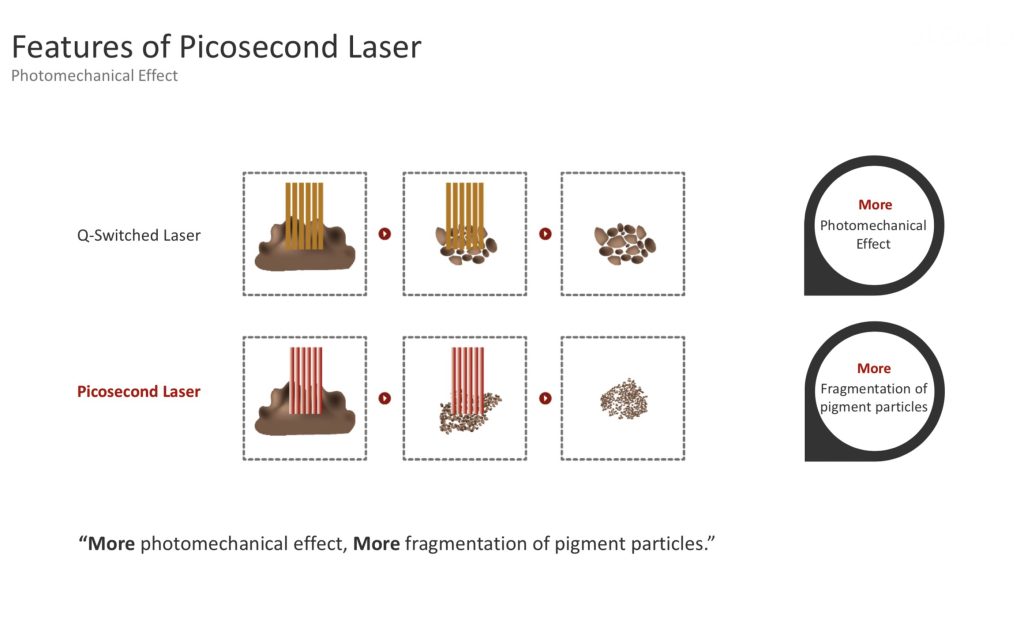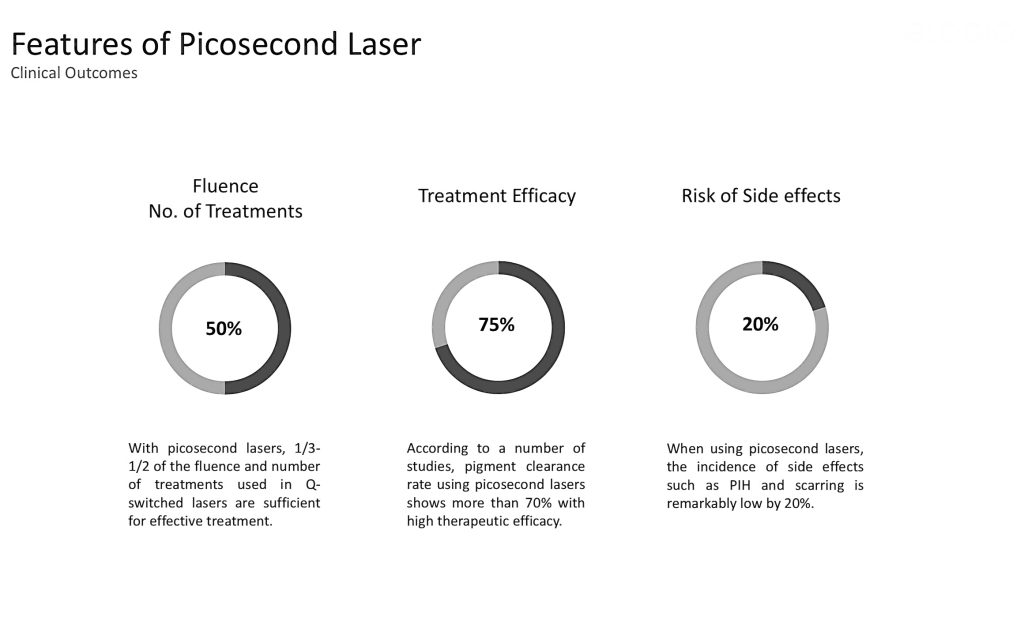 Frequently Asked Questions
What can Pico laser treat or be used for?
Pico laser can be used for a number of medical and aesthetic procedures such as the treatment of pigmentation disorders such as lentigo, melasma and freckles, reducing acne scars, fine lines and wrinkles, correcting scars, tightening pores, removing tattoos, and overall rejuvenation of the skin.
Is the treatment painful?
Patients rarely feel discomfort and the treatment can be performed without local anaesthesia. However, some patients may feel slight discomfort when treating deep pigmentation and tattoos, which requires high energy delivery. In this case, a topical anaesthetic can be applied to the treatment area prior to the procedure.
Are there any contraindications?
Pico laser treatment is not suitable for patients who:
– are hypersensitive to light in the near infrared wavelength
– take medication which is known to increase the skin's sensitivity to sunlight
– have seizure disorders triggered by light
– have herpes simplex in the area being treated
– have shingles in the area being treated
– are pregnant or breastfeeding (lactating)
How many treatment sessions are needed?
As every patient is different, the number of sessions depends on the treatment required and the patient's skin condition. A customised treatment programme will be recommended after an assessment and the frequency of treatments can be adjusted as treatment progresses.
Is there a downtime after a Pico laser treatment?
There is minimal to no downtime after a Pico laser treatment. Patients might experience slight swelling or redness on the treated areas but this should disappear within a few hours. Patients should avoid prolonged exposure to sunlight for a few days after treatment and should always apply sunscreen. A proper skincare regimen will also help to get the most from the treatment.
How long will the results last?
For general pigmentation lesions, a patient's daily lifestyle and sun exposure can have an impact on the longevity of Pico laser's anti-ageing and rejuvenating treatments. After the initial round of treatments, it is recommended to undergo touch-up treatments every six months or so.