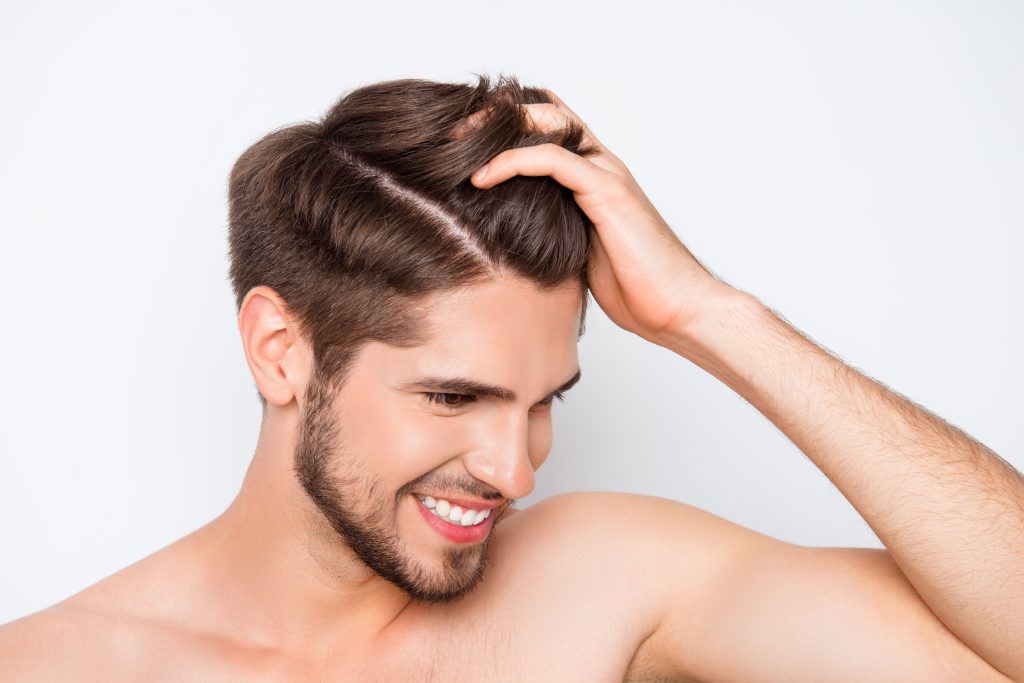 At Alaxis Medical Clinic, we understand how detrimental hair loss can be to one's confidence. Before beginning the journey of regaining this self-confidence, one of the most important things you need to determine is what type of hair loss you are experiencing. Once you know what is causing your hair loss, you can look at hair restoration treatment options such as FUE Hair Transplant.
Manual FUE + Innovative Hair Transplant Technology
Manual follicular unit extraction is considered to be one of the best methods of surgical hair restoration. This manual method causes less trauma to the skin. It is also the technique that requires the highest amount of precision, skill, and artistry. Due to the manual dexterity required, many hair restoration physicians use robotic-assisted technologies.
Dr Donald Ng is one of the few hair transplant practioners who performs this critical step himself. He firmly believes that graft harvesting should be approached as artistically as the transplanting process.
This is because the punching techniques used to harvest the hair play an essential role in the overall aesthetic result. Punch size is directly related to the potential scarring produced from this surgery; the smaller the punch size, the less visible scarring will be.
FUE is an excellent choice for those who are seeking a long-term solution to hair loss, but who don't want visible evidence of having undergone a procedure.
What is a FUE hair transplant
FUE, also known as Follicular Unit Extraction is a highly advanced and intricate procedure to restore hair loss. FUE hair transplants are done by taking individual hair follicles out of your skin and implanting them elsewhere on your body. This technique moves hair from a part of your scalp with plenty of hair, most commonly the back or sides of your scalp (known as the "donor site"), to a bald or balding part, most commonly the front or top of your head (known as the "recipient site"). This will make the hair in the new area look thicker.
While FUE can be fantastic, since the technique is minimally invasive, it is only one small part of hair transplant, with much of the final result depending on proper patient selection, hairline design, recipient site creation, proper handling and surgical refinement of individual hair grafts to ensure both graft survival and a natural aesthetic.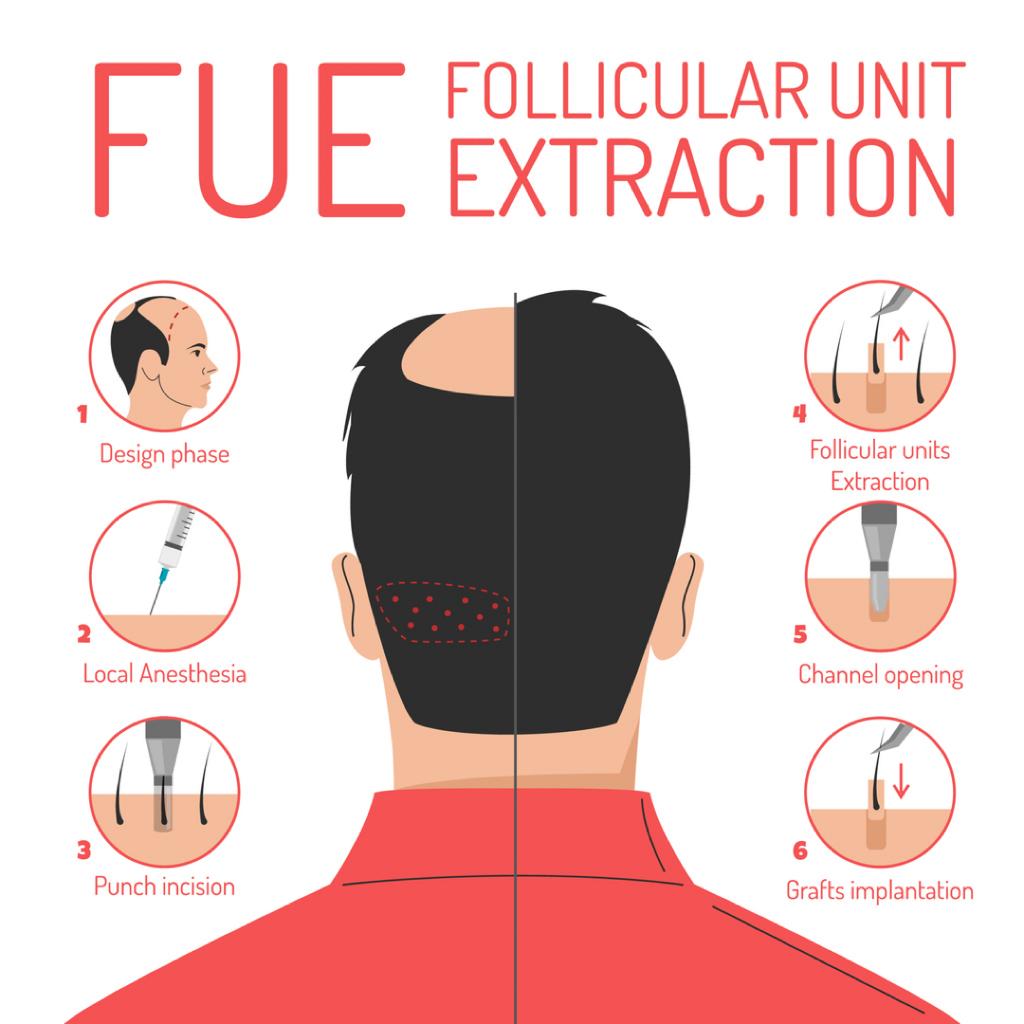 Pros and cons of hair transplants at a glance
Hair transplants can be an effective treatment for hair loss, but they're not suitable for everyone. Hair transplants are not suitable for:
Women with a widespread pattern of hair loss throughout the entire scalp
People who do not have enough "donor hair sites" from which to obtain hair from
People who have a tendency to form bad scars such as keloids
People whose hair loss is due to medication such as chemotherapy, or an autoimmune condition
Consider the pros and cons before you decide whether to have a hair transplant.
Pros
Hair transplants are usually permanent
They can give you back your natural-looking hair
Boosts self-esteem
Improves appearance
Cons
Can be costly
Not covered by health insurance
May require multiple procedures
Alternatives to hair transplants
If you're waiting for your hair transplant or are unable to afford one, there are several non-surgical alternatives you could use in the meantime. These remedies aren't as effective, but they can help.
Alternatives to hair transplants include:
Minoxidil (Rogaine), which is available for purchase without a prescription. It can be used on men and women.
Prescription medication, which can provide results in treating male and female pattern baldness between 3 to 6 months of continual use.

Low-level laser therapy, which can treat hair loss in both genders by stimulating cellular activity. It promotes hair retention and can strengthen weak hair.
How the Alaxis Medical hair transplant experience works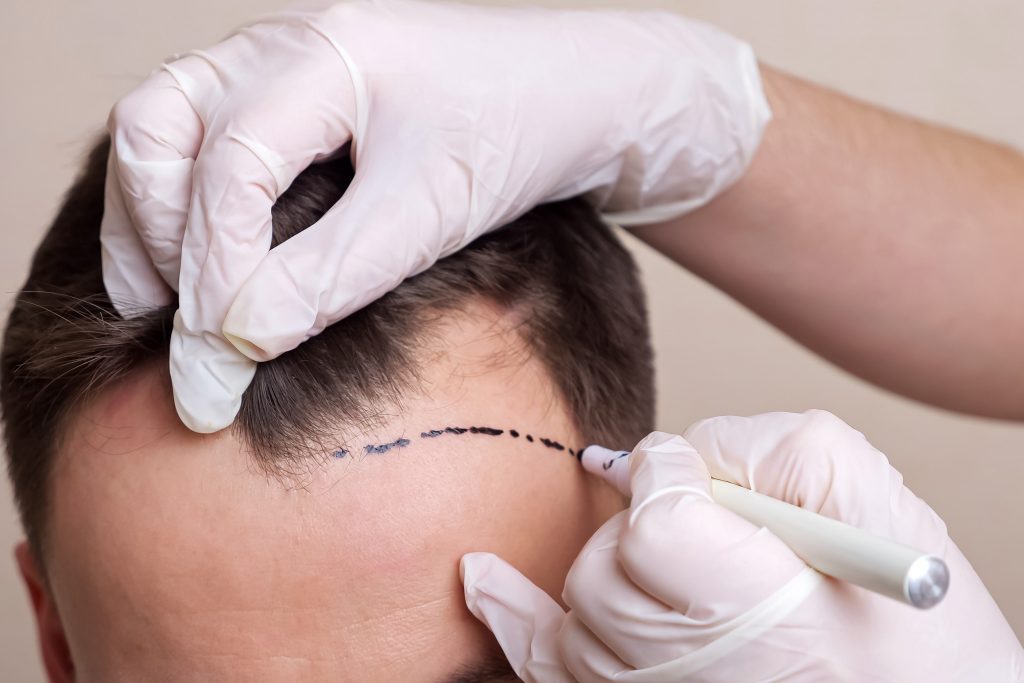 Get in the know. A thorough 30-45 minute in-clinic consultation will give you all the facts you need to make an informed decision, including pricing.
If you're deemed eligible and want to proceed, you can rest assured you're in the best hands. Congratulations, this can be life-changing.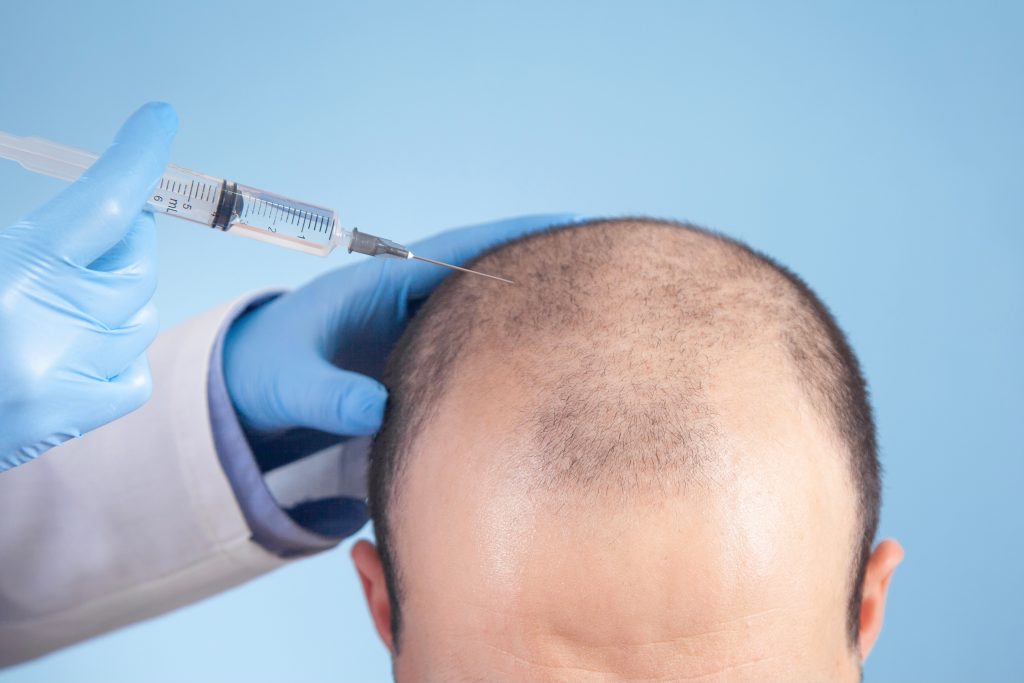 Onto the exciting part! A hair transplant procedure will be done over one day.
There is no cutting involved with the delicate instruments we use, but the area is numbed with a local anaesthetic to minimise any discomfort.
You get to listen to your favourite music during the extraction phase, take a short lunch break and rest during the implantation phase.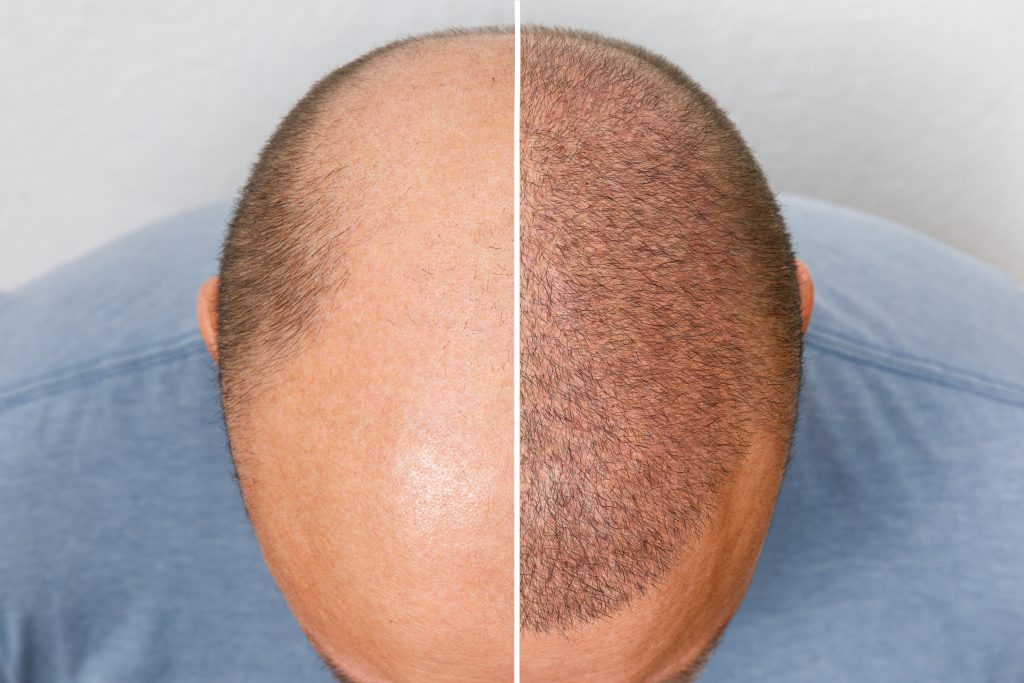 Now, the waiting game.
Your transplanted grafts will start growing in about 4-6 months after the procedure, but full results can take up to 12 months.
Our team is with you the entire time, checking in regularly and ensuring you're happy.
Frequently Asked Questions
Why choose hair transplantation with Alaxis Medical?
Not every hair loss sufferer is a candidate for hair transplant and Dr Donald Ng only recommends hair transplantation when he feels it is completely in the patient's best interest.
Dr Donald Ng has performed hair transplantation since 2006 and has attained surgical proficiency and fulfilled the criteria to be awarded the title of diplomate member by the American Board of Hair Restoration Surgery.
Alaxis Medical is made up of a large dedicated team of hair restoration technicians who have been assisting Dr Donald Ng with hair, beard and eyebrow transplant procedures since 2006 and have gained a wealth of knowledge. This ensures that most procedures can be completed in one day and not multiple sessions. To safeguard his strict standards, Dr Donald Ng performs only one hair transplant procedure per day.
How long do hair transplants last?
Hair transplants are a permanent hair loss solution. For a hair transplant to work, the hair used must be genetically healthy and strong. The hair in the donor area must be within a safe zone to ensure when moved, they will continue to regrow as normal. When performed to the highest standard, the hair growth will mimic that of the hair around the back and sides and grow over the individual's life. Taking care of transplanted hair properly post procedure is also critical to ensure optimal results.
What is the success rate of hair transplants?
Hair transplants are generally successful procedures. Hair transplantation success is best measured in follicle survival rate, as in how many follicles will take in their new location and start growing hair. When assessing success rates, people should consider that final results may take up to 12 months to show.
At Alaxis Medical, we consistently achieve good results for our clients with a follicle survival rate of over 90% (compared to industry rates that fluctuate between 50-90%). So, over 90% of the follicles implanted into the treatment area continue to grow there for life.
Is a hair transplant procedure painful?
A hair transplant is performed under local anaesthesia. Typically, patients do not have any pain during the procedure and after receiving the local anesthesia. They may report little to no discomfort during the procedure. On rare occasions, patients may experience some pinching or mild discomfort during administration of the local anaesthesia.
How much does FUE cost?
Each case is different with the cost based on a number of factors including the number of grafts needed and the desired final results, in terms of coverage, the patient is hoping to achieve.
How many grafts will be needed?
The number of grafts needed in a FUE procedure depends on the size of the area to be covered and the desired density. Thick hair and grafts containing larger numbers of 3's and 4's give the illusion of a fuller head of hair. Unfortunately, this is genetically predetermined. We review patient goals and possible options before determining the number of required grafts during the initial consultation.
Do FUE results look natural?
When performed by an experienced and skilled hair restoration physician, the final results should be so natural in appearance that others will not be able to tell that the hair was transplanted.
Will the new hair grow right away?
Shortly after undergoing an FUE hair transplant, the new hair will look more like stubble on the head. The transplanted hairs may grow very gradually for 2 to 3 weeks before they enter the resting (telogen) phase. During this phase the hair shafts of most, or all, of the grafts will fall out. The transplanted hair will grow once again as it enters the anagen phase after 2 to 3 months. Once hairs are in the anagen growth phase, they will grow as they normally would.
When will the final results be visible?
Once the transplanted hairs enter the anagen growth phase at 2 to 3 months, the new hair will start as thin and fine hair. Over the course of the next several months, the hair will become longer and thicker. At the 10 to 12 month period, coarse hair will start to become evident with the final results becoming visible about 12 months after FUE. Please note that every individual heals at a different rate and the results vary per patient.
What is the recovery time after FUE?
Most patients set aside 2 to 7 days after their procedure to recover. While FUE scars usually heal within 2 to 4 days, it may take up to one week for the donor area to have a healed appearance that is free of scabs. Individual results may vary. Please keep in mind that Alaxis Medical sees patients the first 2 days after the procedure and 1 week after the procedure.
IS FUE the right choice?
The choice about undergoing a hair transplant is a personal decision. As FUE is becoming more efficient, more people inquire about FUE for their hair restoration purposes. Issues that play a role in the final decision include how to style the hair, the lifestyle of the patient, the quality of the hair and the goals of the patient. All of these topics will be discussed during the initial consultation with the doctor.
Is there a need for follow-up or revision FUE?
As patients age, they can progress to a higher Norwood class of hair loss with further loss of their native hair. In these cases, patients can return for a second hair transplant to cover the newly balding areas. The previously transplanted hairs are permanent hairs and patients will not lose them. Some patients may need more transplantation to add density and fullness to the previously transplanted area or to make their hairline more solid.
In compliance with MOH guidelines in Singapore, we are not allowed to post before-and-after images on our website and social media platforms. However, we are more than willing to share such images for your perusal during your in-clinic consultation with us.
We are here for you.
Book Appointment